Info at a Glance
Summer Hours:

Monday to Thursday  10am to 6pm
Friday                    10am to 5pm
Closed Saturday, Sunday & Holidays
Winter Hours: Effective Sep 1, 2016

Monday to Thursday  10am to 6pm
Friday                     10am to 5pm
Closed Saturday, Sunday's and Holiday's
58 Main Street
Flin Flon, MB, R8A 1J8

Phone # 204-687-3397
Fax #     204-687-4233

The Flin Flon Public Library offers Books, Audio Books, Magazines and DVD's for lending
A beautiful, newly designed children's area, complete with Lego table, and toys for your enjoyment
Calendar of Events
Highlights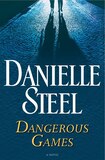 Television correspondent Alix Phillips dodges bullets and breaks rules to bring the most important news to the world—from riots in America to protests on the streets of Tehran. With her daughter in college, and working alongside cameraman Ben Chapman, a deeply private ex–Navy SEAL, Alix revels in the risks and whirlwind pace of her work. But her latest assignment puts her at the center of an explosive story that will reshape many lives, including her own: investigating damning allegations involving the Vice President of the United States, Tony Clark.

Alix begins with a nationally revered woman who may be the key to exposing frightening secrets. Olympia Foster is the fragile, reclusive widow of America's most admired senator, who had been destined for the presidency before an assassin's bullet felled him. Since then, Olympia has found emotional support in Clark, who once wanted her as his wife and now stands as her protector and confidant. When Alix digs deeper, federal agents pick up the trail. Then the threats start.
News and Updates
Latest Children's books at the library!
Adult New Release Books