Info at a Glance
 Business Hours:

Monday to Thursday  10am to 6pm
Friday                    10am to 5pm
Closed Saturday, Sunday & Holidays
 58 Main Street
Flin Flon, MB, R8A 1J8

Phone # 204-687-3397
Fax #     204-687-4233

The Flin Flon Public Library offers Books, Audio Books, Magazines and DVD's for lending
A beautiful, newly designed children's area, complete with Lego table, and toys for your enjoyment
Calendar of Events
Highlights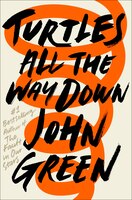 Sixteen-year-old Aza never intended to pursue the mystery of fugitive billionaire Russell Pickett, but there's a hundred-thousand-dollar reward at stake and her Best and Most Fearless Friend, Daisy, is eager to investigate. So together, they navigate the short distance and broad divides that separate them from Russell Pickett's son, Davis.
   
Aza is trying. She is trying to be a good daughter, a good friend, a good student, and maybe even a good detective, while also living within the ever-tightening spiral of her own thoughts. 
 
In his long-awaited return, John Green, the acclaimed, award-winning author of Looking for Alaska and The Fault in Our Stars, shares Aza's story with shattering, unflinching clarity in this brilliant novel of love, resilience, and the power of lifelong friendship.
News and Updates
Adult New Release Books
Latest Children's books at the library!
Join us and the Flin Flon Bombers for a bewitchingly good time! October 25th, 2017 from 4-6pm
It's time for our FALL FUNDRAISER! The Library is selling 50/50 tickets to raise money for purchasing new books! Tickets are…
2016 year in review 2015 year in review