Info at a Glance
 Business Hours:

Monday to Thursday  10am to 6pm
Friday                    10am to 5pm
Closed Saturday, Sunday & Holidays
 58 Main Street
Flin Flon, MB, R8A 1J8

Phone # 204-687-3397
Fax #     204-687-4233

The Flin Flon Public Library offers Books, Audio Books, Magazines and DVD's for lending
A beautiful, newly designed children's area, complete with Lego table, and toys for your enjoyment
Calendar of Events
Highlights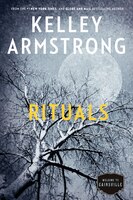 When Olivia Taylor-Jones found out she was not actually the adopted child of a privileged Chicago family but of a notorious pair of convicted serial killers, her life exploded. Running from the fall-out, she found a refuge in the secluded but oddly welcoming town of Cainsville, Illinois, but she couldn't resist trying to dig out the truth about her birth parents' crimes. She began working with Gabriel Walsh, a fiendishly successful criminal lawyer who also had links to the town; their investigation soon revealed Celtic mysteries at work in Cainsville, and also entangled Olivia in a tense love triangle with the calculating Gabriel and her charming biker boyfriend, Ricky. Worse, troubling visions revealed to Olivia that the three of them were reenacting an ancient drama pitting the elders of Cainsville against the mysterious Huntsmen with Olivia as the prize.
News and Updates
Latest Children's books at the library!
Our TD Summer Reading Program has arrived!
2016 year in review 2015 year in review
Adult New Release Books