Info at a Glance
 Business Hours:

Monday to Thursday  10am to 6pm
Friday                    10am to 5pm
Closed Saturday, Sunday & Holidays
 58 Main Street
Flin Flon, MB, R8A 1J8

Phone # 204-687-3397
Fax #     204-687-4233

The Flin Flon Public Library offers Books, Audio Books, Magazines and DVD's for lending
A beautiful, newly designed children's area, complete with Lego table, and toys for your enjoyment
New Release: Staff Picks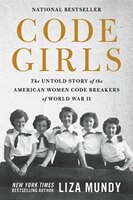 Recruited by the U.S. Army and Navy from small towns and elite colleges, more than ten thousand women served as codebreakers during World War II. While their brothers and boyfriends took up arms, these women moved to Washington and learned the meticulous work of code-breaking. Their efforts shortened the war, saved countless lives, and gave them access to careers previously denied to them. A strict vow of secrecy nearly erased their efforts from history; now, through dazzling research and interviews with surviving code girls, bestselling author Liza Mundy brings to life this riveting and vital story of American courage, service, and scientific accomplishment.
At age twenty-two, writer Chris Urquhart left a life of middle-class comfort to document the lives of these young nomads for a magazine feature. Captivated, she followed them for three more years. In honest prose interspersed with photographs portraying the grimy beauty of nomadic life, Dirty Kids tells the story of how Urquhart lived alongside runaways, crust punks, and dropouts, hippies, Deadheads, and Rainbows in an attempt to belong in their world.
But the road took its toll, and along the way, Urquhart found suffering alongside the freedom— mental health issues, substance abuse, and fears of violence marred her journey. Despite all that, the warm, welcoming family of travelers and their radically alternative culture of sharing, generosity, and non-capitalistic collaboration forever changed her outlook on life and her understanding of freedom.